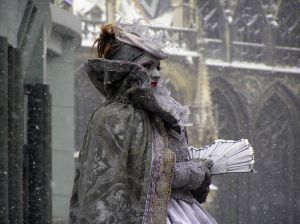 Finding the right costume for a dance performance is critical to the success of a the show. When you are working on a tight budget, finding costumes is a lot more difficult. We decided to start with simple white unitards figuring we could dye, paint and embellish original creations. The only problem is that unitards are no longer popular- it seems they had their heyday in the 80s and now almost no one makes them anymore. The few that were available were either the wrong style or the wrong color… or we couldn't find two matching ones.
Finally, when the frustration had reached an all-time high, I decided to look into alternative options. I ask the Universe for a little guidance. Okay, I begged. (Hey, it couldn't hurt).
Within moments my fingers stumbled, quite literally, across a website that had a whole lot of glitzy stuff, but they also had a costume that looked interesting. It was a whole new approach, but Mymuna and I decided that it would work. We ordered immediately.
The costumes arrived a few weeks later. I was so excited to try them on. I tore open the package, wondering what they'd look like. The website had shown the outfit in black, but we'd ordered brown, thinking it was a better choice for an outdoor, daytime performance. The fabric was soft to the touch as I slipped it from the bag. I laid it on the bed for a closer look.
Um. Not gonna work. Like, really not gonna work. Is this really what I ordered? Did they send the right costume?
It looked nothing like the picture on the website. And there was so much gold… gold shorts, gold tank bra… it looked way too Flashdance/Solid Gold dancers. Not at all what we had thought. Definitely not family-friendly. More appropriate for… cheerleading. Or pole-dancing. Yikes.
It's times like these where ingenuity and flexibility come in handy. We would simply have to add to what we already had. There wasn't enough time left to do anything else. And parts of the costume were cool (and even faintly resembled the website photo)… we could work with it.
We went fabric shopping and found beautiful fabric. On sale. Spent a few hours cutting strips and panels, tucking them into place, with Mymuna as a live model. Tuck. Strut and spin to see how it looks when we move. Good. Pin. Next panel.
And so on.
The finished products will certainly be one-of-a-kind. Pretty cool, really. Soon to be posted. Just as soon as I get a free moment to pull out the sewing machine.
photo by: Rayko Swensson
If you enjoyed this article, Get email updates (It's Free)