I was fortunate enough to catch up with FACT/SF's Artistic Director Charles Slender-White as the company prepares for its upcoming new production, Relief. Mr. Slender-White has created over 20 works to-date, with commissions from the US Department of State, CounterPulse, Acid Rain (Chelyabinsk, Russia), Dialogue Dance (Kostroma, Russia), and others. His choreography embraces technical formalism while incorporating the risqué, macabre, and unexpected, and has been described as "paradoxical and interesting" (Natalia Kurumova, dancenet.ru) and as "sexy…vicious…bizarre" (Ariel Soto-Suver, SF Bay Guardian).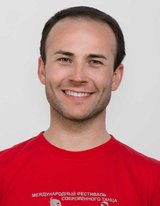 Since 2008, FACT/SF's primary mission is to produce sophisticated and rigorous contemporary dances that encourage viewers to feel intensely, think critically, and broaden their perspectives. FACT/SF consistently presents new work to broad audiences throughout the Bay Area, and has received commissions from CounterPulse, Electric Works Gallery, Kauri Dance, and the Chelyabinsk Pedagogical State University.  In 2012, FACT/SF completed its first international tour of eight cities across Russia under the auspices of the 'American Seasons' program conducted by the US Department of State.
1. Your upcoming production of Relief centers on the theme of the human quest for satisfaction. What made you choose this theme? How does this quest come into play in your life?
I'm endlessly fascinated by the human condition – what we do, how we do it, why we do it, all that. In April 2014, I made a piece called Invidious that took a pretty critical look at the American Dream and American Identity. In some ways, Relief is a natural extension of that piece – and, instead of being tied to a particular country or national identity, it looks at people more broadly while asking a similar set of questions: Why is the feeling of satisfaction such a fleeting one? Why does trying to achieve seem to actually be at odds with being satisfied? Why can we only experience relief after we've endured some challenge or conflict? Is there something inherently wrong or unsettling with a perpetual state of contentedness? I think a lot of this is based on my own observations, but in discussions with others there also seems to be some general cycling of 1.) trying to achieve, 2.) making progress, 3.) feeling busy, 4.) feeling overwhelmed, 5.) needing a break, 6.) seeking (and hopefully finding) relief, and 7.) starting at 1 again.
2. Audiences will view Relief in a very intimate setting: seated in the round, small groups of up to 40 people. Why did you choose this configuration? How do you think it will shape the audience's experience?
I'm in love with live performance, and I do not think it's a dying art form in any regard. As our lived experience happens more and more in the digital space, I think our need to be in the presence of live art (like dance) will only increase. It reminds us of our humanity, and there's always something beautiful about one human seeing another human – just recognizing in a fundamental way that we're the same type of creature….like the curiosity a dog has when it sees another dog. By placing the dancers and the audience so close together, this opportunity for recognition is magnified. This is great, I think, because then in some way the audience is forced to contend with the dancers as people, not just as art objects or physical manifestations of abstract ideas. Dancing this close, the audience will be able to hear the dancers breathe, smell their bodies, see (and possibly get spritzed with) their sweat. There's something visceral and immediate about close dancing – it really heightens the experience and augments the power of dance itself.
3. You've stated that Relief follows instinct more than order. Can you say more about this?
Sure. In the creation of this piece, the collaborators and I followed choreographic impulses. Rather than starting with an agenda to make a piece that is meant to do/show something in particular, we started with a set of questions and some in-depth discussions, and built organically from there….with an openness and curiosity about where it was taking us.
In Stepset Shift, the ballet I made last fall, I worked with an enormous spreadsheet to make the choreography and organize the piece. I meticulously counted every measure of Ravel's Bolero, and stacked the moves on top of that score, note for note. This time I didn't want to work with spreadsheets. I didn't want to predetermine what the logic of the work would be before getting into the studio. It's like, cooking while adhering to a recipe vs. opening your fridge and cupboards, seeing what's available, and winging it. Both can be great ways of cooking, and both yield different results.
4. What are your future projects/visions? Can we expect more of this type of work?
Yes, but not only! We have a lot of projects in the hopper, and each of them will require a different approach, venue, and format. I like small spaces and big spaces, non-traditional sites and proscenium stages, classical music and electronic noise. One of the real gifts of working with such talented collaborators, and being supported by an amazing and engaged set of community members, means that I have a bit of freedom, a small team, and some (albeit limited) resources to follow my artistic impulses, rather than searching for past success by re-producing work in a more formulaic or predictable manner.
5. Is there anything else you'd like to share?
Sure. FACT/SF has been so, so fortunate to have an amazing audience for its work. Most of the people who come to see our performances are engaged, intelligent, and independent. They are able to see what we're up to, and make their own conclusions about what it means to them. This is amazing, and how I wish all people watched work. There's an…ownership over the subjective experience that I think is so terribly cool. Few people who attend FACT/SF performances are concerned if they 'got the piece' or 'missed the point'.  What they know is, they had 'x' type of experience, and it was meaningful to them in 'y' ways. Debriefing with audiences after the show is always one of my favorite parts of the production cycle, because it's where we can best understand the myriad and unpredictable ways that art can impact audiences. While I love the process of making dances in of itself, I think the real value of art comes from the dynamic exchange between the work and its viewer.
SHOW INFO:
When: May 7-9 & 14-16, 2015, 8pm
Where: Joe Goode Annex, 401 Alabama St (at 17th St), San Francisco, CA 94110
Tickets & Info: $20-$30, http://www.factsf.org/relief
Relief is produced in association with the Joe Goode Annex, and Slender-White will perform alongside FACT/SF Company Members Liane Burns, Michaela Burns, Catherine Newman, LizAnne Roman Roberts, and Amanda Whitehead. The work will feature music by Ryoji Ikeda, Junior Boys, J.S. Bach, Passion Pit, Röyksopp, and Yelle. Relief is approximately 70 minutes in-length, attendees will be offered complimentary beer and wine, and each show will be followed by a short post-performance discussion.
RELATED POSTS: