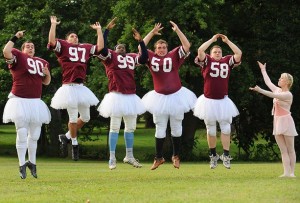 Years ago a boyfriend tried to get me interested in football by likening it to ballet. In the face of my blatant skepticism he insisted there were parallels: did I not notice the graceful, gazelle-like leaps before the tackles that ended in a tangle of limbs? Would I not admit the precision and grace with which players fled across the field for a touchdown? And what about the victory dance after a touchdown? That had to count for something, didn't it? Needless to say, his arguments failed to sway my opinion and I never did develop a love for football (sorry guys) partly because it's hard to swallow the salaries they get in comparison to the paltry pay of most dancers.
BUT… lately I have noticed an interesting phenomenon–ballet and sports have been teaming up to create some fun ad campaigns, and they're creating quite a buzz. My old dance alma mater, Miami City Ballet teamed up with local basketball team,  Miami HEAT, for a photo campaign celebrating MCB's 25th anniversary. The juxtaposition of tiny ballerinas to towering, lanky basketball guys was hilarious… and memorable.
However, MCB is not playing favorites– when it comes to sports all are welcome. Former NY Mets slugger Mike Piazza joins the team of tutus in Miami City Ballet School's upcoming show on May 3rd; he'll play 'The Gangster' in 'Slaughter on Tenth Avenue' (Piazza's 6-year-old daughter, a student at the Miami City Ballet school, encouraged him to try out for the part).
I imagine dancers and athletes alike have had a lot of fun with this stuff and perhaps they have something to learn from one another. Many athletes have turned to ballet to help them improve their flexibility and coordination. Now if we dancers could only get them to return the favor and give us some help in negotiating killer 6-figure salaries…
Behind-the scenes video from Miami City Ballet/Miami HEAT photo shoot: