It's a Thursday evening and Post:Ballet's Robert Dekkers in is five places at once. He's in discussion with his lighting designer, conferring with dancers, and bringing me up to speed about some of the collaborators he's working with this season. He cues the music with his phone and the dancers run through DoBe:Family Sing-a-Long and Game Night, Dekkers' newest work, (due to premier at the end of July), bodies playing off each other in a tangle. There's humor, exaggerated facial expressions, even partnering role reversal, with the women doing the heavy lifting.The choreography includes elements of games like charades and red light/green light set to a score that revisits singing and nursery rhymes.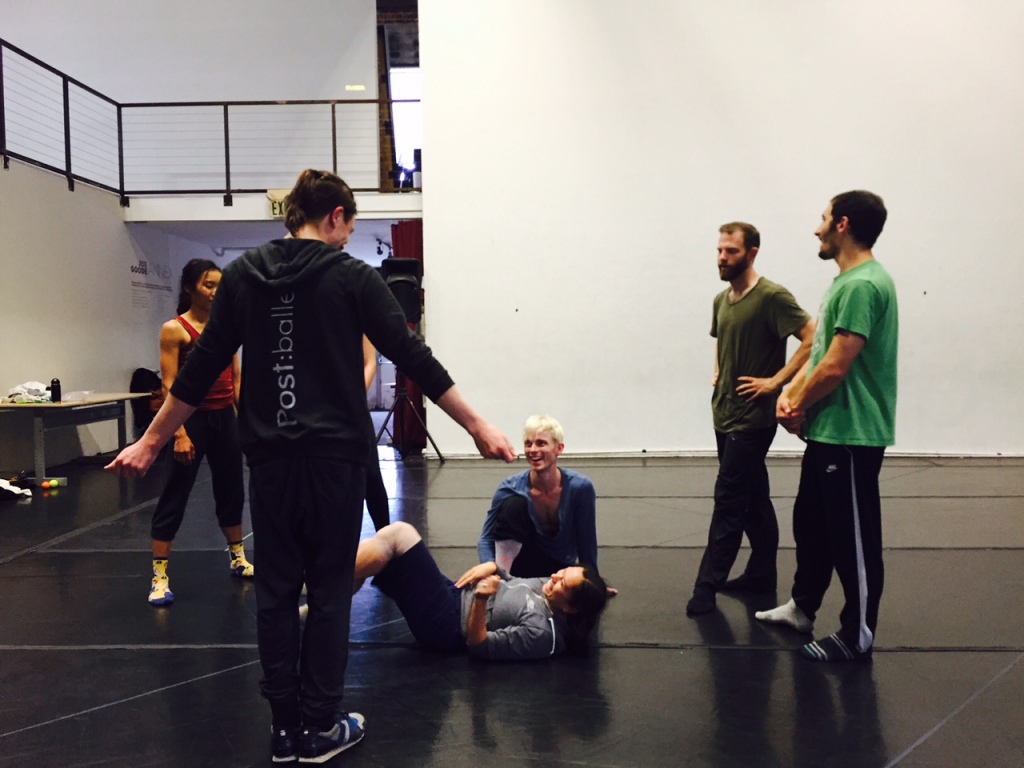 "This piece is very autobiographical," says Dekkers. "I'm looking at patterns from my upbringing and realizing what I'd like to do differently now. I'm thinking what is family? Since coming to San Francisco and not having the support of my family of origin I've created a new sort of family, perhaps one that is more in keeping with who I am at this time in my life. I grew up in middle America where there was a particular way things were done and problems weren't discussed. I think there are lessons to be learned so that we don't continue to repeat the same patterns."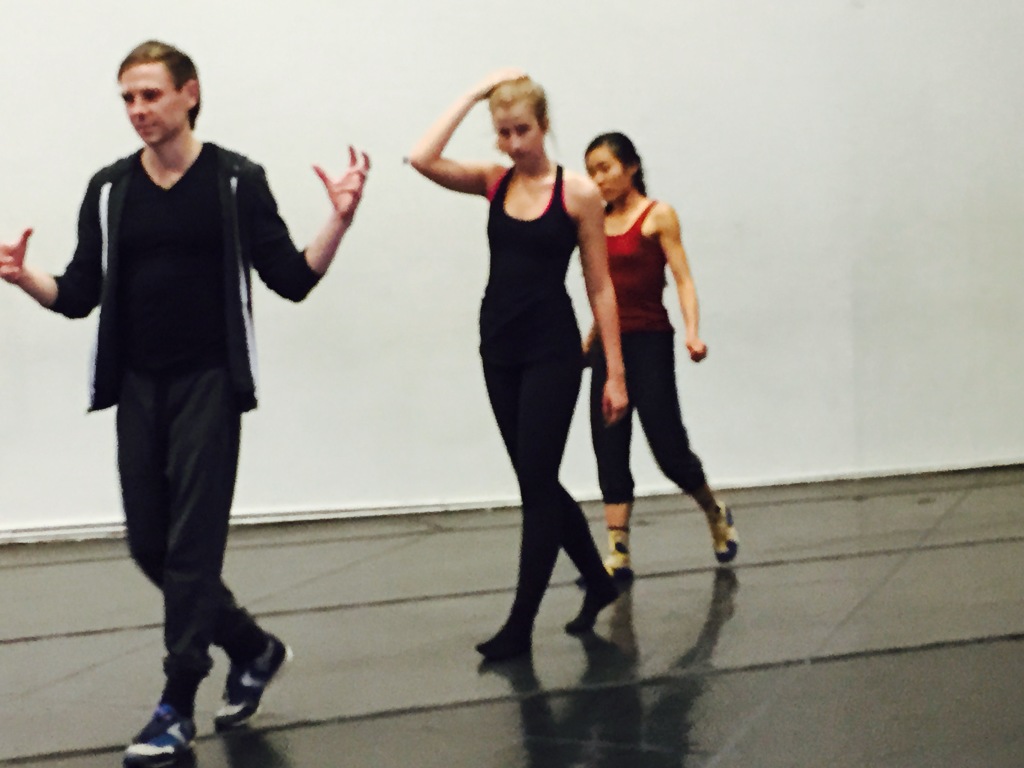 Dekkers always keeps you guessing, which is one of the reasons DANCE magazine placed him on their "25 to Watch" list. Seeing the company in action today I see things I haven't seen before and realize this is true anytime I see them. Dekkers isn't just a highly creative choreographer; he puts a lot of thought into his work and often collaborates with diverse artists, including composers, animators, architects, videographers, graphic designers, and playwrights. The end result is classically-based dance with a twist, both dynamic and alive and relevant for today's audiences.
Post:Ballet is also a working democracy. "I look for dancers who bring ideas," says Dekkers. During today's rehearsal one dancer offers suggestions to switch the placement on stage during one section. Dekkers asks to see it that way. They try it but there are issues. They try it again the original way. "I like it the original way best. Thanks dancers for playing with the other options," says Dekkers. A few minutes later he integrates another dancer's suggestion into the final piece.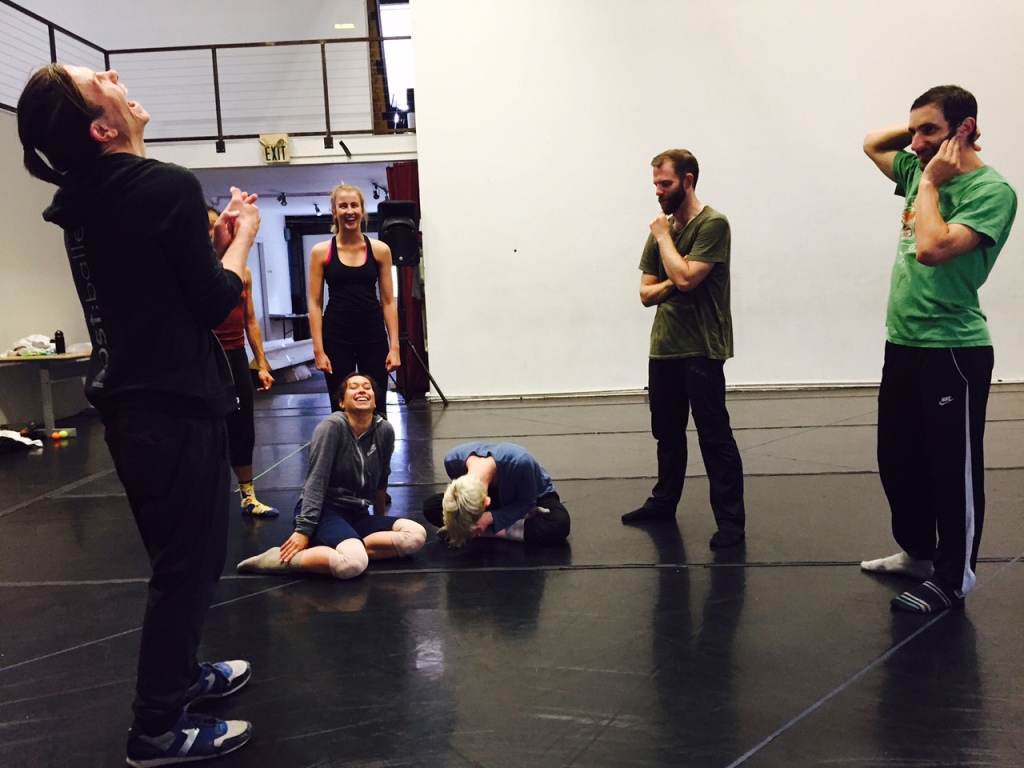 Rehearsal ends with a final comment from Dekkers. "Love you guys. Thank you so much." Everyone–including the lighting designer–gets a hug. One big happy family.
Check out Post:Ballet's "SIx Pack", an eclectic exhibition of six short works, highlighting the versatility and creativity of director/choreographer Robert Dekkers and his exceptional team of dance artists and collaborators.
When: Friday, July 24th and Saturday, July 25th
7:30pm. Pre:Party @ YBCA Lobby
8:00pm. Six Pack @ YBCA Theater
9:30pm. Post:Party @ YBCA Terrace
Where: YBCA Theater (701 Mission Street, San Francisco)
Tickets: http://www.ybca.org/post-ballet-six-pack
Info: http://www.postballet.org/six-pack/
PROGRAM:
World Premiere
CHOREOGRAPHY- Robert Dekkers with Jessica Collado / ORIGINAL SCORE- Samuel Adams / PERCUSSIONIST- Andrew Meyerson / COSTUMES- Susan Roemer / LIGHTING – Jack Carpenter
Do Be: Family Sing-a-Long and Game Night  (world premiere)
CHOREOGRAPHY- Robert Dekkers and the Post dance artists / ORIGINAL SCORE- Nicole Lizeé / LIVE MUSIC- The Living Earth Show (Andrew Meyerson and Travis Andrews) / CINEMATOGRAPHY- Alexander Reneff-Olson / COSTUMES- Christian Squires / LIGHTING- Jack Carpenter
Reason does not know (2015, West Coast premiere)
CHOREOGRAPHY- Robert Dekkers / ORIGINAL SCORE- Jonathan Pfeffer, Cage Free / COSTUMES- Marlowe Bassett
*Reason does not know was originally created for Kansas City Ballet
ourevolution (2014, http://vimeo.com/104555740)
CHOREOGRAPHY- Robert Dekkers and the Post dance artists / ILLUSTRATIONS- Enrique Quintero / ANIMATION- Yas Opisso and Stephen Goldblatt / COSTUMES- Susan Roemer and Christian Squires / MUSIC- Nils Frahm / LIGHTING- David Robertson
Yours is Mine (2014, http://vimeo.com/113189875)
CHOREOGRAPHY- Robert Dekkers / MUSIC- Jonathan Pfeffer, Bodega /
COSTUMES- Tamara Cobus
*Yours is Mine was originally created for Atlanta Ballet's Wabi Sabi program for the Atlanta High Museum of Art's "Mi Casa Your Casa" exhibit
Flutter (2010)
CHOREOGRAPHY- Robert Dekkers / MUSIC*- Steve Reich, Clapping Music and J.S. Bach, Partita for Violin No. 2 in D Minor: Sarabande / COSTUMES- Susan Roemer
*Performed live by The Living Earth Show and violinist Kevin Rogers