Like a scary shadow, self-doubt has haunted dancers of all ages and abilities. Ballet dancers, in particular, tend to grapple with feelings of inadequacy. But take heart. Whether you're a seasoned professional, or absolute novice, there are things you can do to increase your self-esteem and enjoy dancing again. Consider five ways dancers can combat self-doubt and build their confidence.
Give yourself more credit.
Think about it—you could be sitting on the couch, or engaging in some other activity that adds nothing to your life. At least you're doing something healthy and productive for yourself! Every dancer has ups and downs, but when you're at a low point, remember that you could be somewhere else. And if you can't seem to bring yourself to do this, allow me to do it for you: kudos to you!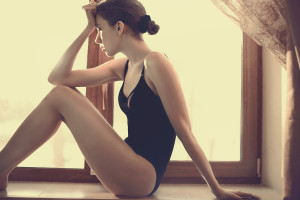 Set realistic goals.
Having trouble nailing those fouéttés? Maybe it's because you can barely do a pirouette without falling off balance. Professional dancers are notorious workhorses, but even beginners can set the bar too high for themselves. Setting small, realistic goals for yourself will help you feel less overwhelmed. For instance, if you have trouble executing a double pirouette, why not learn to master a clean, single pirouette first? Even taking the time to do a proper warm-up can help you feel prepared for the demands of class.
Focus on something positive about yourself.
We all have gifts. Maybe you have naturally stellar turnout, or picture-perfect arches. Instead of nit-picking all your perceived negative traits, focus on your positive attributes. Perhaps your strong points have nothing to do with your physical appearance. Can you get through allegro combinations without gasping for breath? Do you remember combinations with ease while your classmates struggle to retain instructions? The next time you're feeling down, think about the one (or multiple) things about yourself that you love, or set you apart.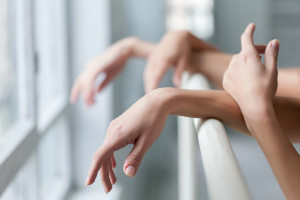 Don't compare yourself to others.
The reality is, there will always be someone who can jump higher or turn faster. Depending on how far you go in your career, you will meet these individuals somewhere along the way. Instead of competing with others and fostering jealousy, focus solely on your own progress and develop good sportsmanship. Doing your part to promote healthy dynamics with your classmates will contribute to a positive learning environment that benefits everyone.
Remember your reasons for dancing.
Do you dance for recreation? Fitness? Some dance because it's their life's calling. Remembering why you dance can increase your motivation and reignite your joy. Everyone feels a little insecure sometimes, but keeping in mind the factors that drew you to dance in the first place will help to mitigate the effects of self-doubt.
Don't let self-doubt cast its dark shadow over your life. It can be easy to fall into a rut, focus on the negative, even question your right to be in the studio at all. Through consistent effort, and a good sense of humor, you can successfully shake that self-conscious monkey off your back.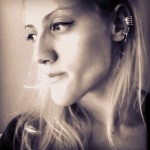 About the Author
Bethany Leger taught ballet for 7 years in Dallas, TX. She is the founder of Ballet For Adults, a site dedicated to educating adults about ballet at http://balletforadults.com/