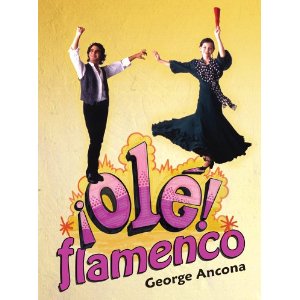 Author: Ancona, George
Title: ¡Ole! Flamenco
Publisher: Lee & Low Books, 2010
ISBN: 9781600603617
ages: 8-12
Flamenco: It's singing, it's dancing… it's a passionate, expressive art form that has evolved over hundreds of years. George Ancona visited and photographed today's generation of flamenco dancers in Spain and New Mexico, capturing their dance in a beautiful collection of color photographs of swirling skirts, stomping feet and flowing limbs.
¡Ole! flamenco traces the Gypsy origins of flamenco as they fled from foreign invaders in India, migrating across the Middle East, North Africa and Europe, traveling with camels and caravans to escape, bringing their dance and a strong sense of independence with it. Although the Gypsies remained outsiders wherever they went, they eventually found safety in Southern Spain, where their music and dance blended well with that of the Moors, Arabs and Jews.
Today flamenco remains a heartfelt tradition that is passed down from one generation to the next, each lending their voices, zapateado (footwork), hearts, and hands to the ever-evolving tapestry of this colorful art form. ¡Ole! flamenco offers the reader history, terminology and and inside look at today's up and coming young dancers. Both elegant and educational, it's also inspiring enough that you may finish the book with a desire to sign up for classes yourself.