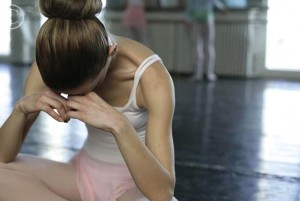 Every dancer hits a proverbial wall from time to time. (non-dancers do too). This recently happened to me and I've had an ongoing internal dialogue about what to do about it ever since. It isn't easy or comfortable to pick yourself up, dust yourself off and keep trying after a failed attempt… plus ignore those nasty inner critics that insist you'd be better off if you packed it all in and went home to do something nice and safe. Like basket weaving.
Feeling bad about things like an audition gone wrong or a job offer that fell through is understandable. You might also be tempted to allow yourself to fall into the dumps or have a pity party. We've all been there. But how do you climb back out of that hole?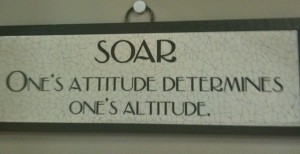 I randomly came across this sign the other day and it summed the issue up perfectly. Happiness and success are an inside job. Whether your goal is to dance with New York City Ballet or twirl fire-laden hoops on Brooklyn rooftops, ultimate success begins with unwavering (aside from the occasional blip of the blues) passion and belief about what you are doing. Everything else is peripheral. The more you keep your focus on what you are doing and your vision of where you want to go with it, the more likely you are to get there.
This is not to say that there won't be human moments–disappointments and fears–but there is always the option to rise above these and keep going no matter what.
There's a saying in the writing business that the difference between published and unpublished writers is persistence. Those who don't give up– who let their attitude determine their altitude– are the ones who take flight.
How high will you fly?