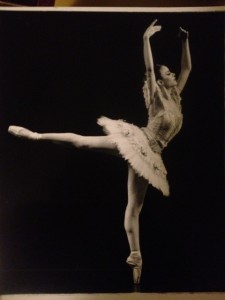 Jenna Lavin-Crabtree is originally from Queens, New York. She began ballet training with Mme. Gabriela Darvash and Jody Fugate. She later graduated from the School of American Ballet where she studied with such teachers as Alexandra Danilova, Antonia Tumkovsky and Stanley Williams.
Ms. Lavin began her professional career at 17 when she was invited to join the Chicago City Ballet, under the direction of Maria Tallchief. Ms. Lavin also danced with the Atlanta Ballet (directed by Robert Barnett) for seven years. Her principal soloist roles with the Atlanta Ballet include: Balanchine's Prodigal Son, The Four Temperaments, Serenade, Tarantella Pas De Deux, Minkus Pas a Trois as well as Le Corsaire Pas De Deux, A Midsummer Night's Dream, Swan Lake and The Nutcracker. Ms. Lavin was a principal dancer with Nashville Ballet where she danced Odette/Odile in Swan Lake and the title role in Giselle as well as principal roles in the company's contemporary repertoire. Ms. Lavin spent eight summers as a member of the Chattaqua Ballet Company, under the direction of Jean-Pierre Bonnefoux where she performed principal roles in ballets by Balanchine, Bonnefoux and Clifford. She is a former soloist with Edward Villella's Miami City Ballet where she danced principal roles in many ballets including Divertimento #15, Jewels, Pas De Dix, Raymonda Variations, Valses Fantaises, Western Symphony, Glinka Pas De Trois, The Nutcracker and Who Cares? Ms. Lavin has worked with numerous choreographers, creating principal roles in ballets by Alonzo King, Lisa de Ribere and Stanton Welch, to name a few. In the summer of 2003, Ms. Lavin performed in Casablanca, collaboration between Warner Bros. and John Clifford's Los Angeles Dance Theater.
1. How did you get your first contract with a professional company?
My professional career started at 17.
I was finishing up my last year at SAB and wondering what to do for the summer in terms of my ballet training. I auditioned for the Chicago City Ballet summer program based solely on the fact that it was directed by Maria Tallchief. I very much wanted to work with her. She was not at the audition that day. The audition class was run by her associate directer, Paul Mejia. I guess he liked what he saw of me that day because after the audition was over he told me I was accepted into the summer program. Then he told me that he thought Ms Tallchief (that's what we all called her) would like me very much, maybe even enough to offer me an apprentice for the Fall! Of course I was very happy to hear this as I was trying to find a company position somewhere for the next season. I started that summer as a student in the summer intensive and finished that summer with a company apprenticeship contract signed, sealed and delivered! I stayed there for a year and a half at which point unfortunately Chicago City Ballet folded. I'm so grateful for that time with the legendary Ms Tallchief. She was truly an amazing force to work with and I was very much in awe of her.
2. Describe some of your favorite moments from your dance career?
There are so many! I danced professionally for 18 years in 4 different companies PLUS tons of summer work, Nutcracker guestings and freelance work.
My husband and I fell in love while doing freelance work here in NYC with a small pickup company who had hired Staton Welch ( now the director of Houston Ballet )to choreograph a new ballet. Cornel and I were partnered together and Staton was/is incredibly talented and having that ballet created on us was really a magical experience. Every one of the performances was a journey for us and really I think some of my most enjoyable *moments* on stage were spent happily in my soon to be husband's arms!
While with Atlanta Ballet so many wonderful opportunities were given to me by Robert Barnett, our loving and very generous director. My first Sugar Plum and Dewdrop were danced with the Atlanta Ballet. Symphony of Psalms and Carmina Burana rehearsing with Fernand Nault -an amazing experience. Really the rep in Atlanta was wonderful, everything from the full length classics to Balanchine to contemporary works.  Later on in my career as a member of Miami City Ballet, Edward was very good about "spreading the wealth" when it came to casting and almost always tried to have 3 casts of the principal and soloists roles. One of the principal women in Divertimento #15 was a favorite, favorite part of mine. I was cast in this part immediately, it was actually my first rehearsal with the company! Performing at the Kennedy Center for the first time was definitely a highlight.
Other memorable moments were performing the title role of Giselle with the Nashville Ballet with a live orchestra and a packed audience. So interesting and awesome to dive into a character so thoroughly. I loved that work in the studio. And Black Swan, completing those famous 32 fouettes on stage for the first time! So exhilarating! So many wonderful and beautiful memories.
3. What made you decide to end your dance career? How did you decide what to do next?
What made me decide to end my career was pregnancy!! I had started teaching at Ballet Academy East (where I still teach today) about a year before I became pregnant.  It was a great fit from the start.  I still danced my first year while teaching at BAE but only freelance gigs and Nutcracker guestings. Once I became pregnant I continued to teach up until about 2 weeks before I had my first son. I've had 2 more boys since then and with each pregnancy I taught all the way through to the end. So really I had already started on another career before I had time to sit and ponder what I would do "after dance".
4. Is dance still a part of your life now? How?
Dance, as always is a huge part of my life even though I no longer dance professionally. It has been my passion since I started training, at age 7. The obvious way it's still a part of my life is my teaching.  To this day (and I retired 9 years ago) I still love being in a studio. I teach the beautiful kids at BAE and that work in the studio that I so loved doing is still very much alive in me. I think this comes thru in my choreography that I do for our student company. I'm incredibly lucky in that I get to choreograph on the kids 2-3 times a year and it's such a joy for me!  That feeling of moving to the music in thinking up their choreography is what reminds me most of dancing and keeps it such a huge part of my life.
5. How do the things you learned from ballet influence your life today?
Ballet teaches such amazingly focused discipline and perseverance.  I know these qualities have stayed with me long after I have left the stage. I think also spending all those years studying your craft while staring in the mirror has maybe now turned into studying my life and tweaking it to make sure all is running smoothly. I think dancers are great at " fixing " things. We learn early on to make the best of a situation and trudge onward. Now that I'm a Mom these qualities are serving me well!
6. Is there anything you would change or do differently if you could?
I absolutely wouldn't change a thing. I have always felt that everything happens for a reason. I was so fortunate with my career because I worked with so many choreographers and danced so many different ballets. It wasn't always wonderful of course but no one's situation is perfect, even if it appears to be. I sailed thru my 18 years on stage with only 2 minor injuries and one terrible ankle sprain that left me out of the studio for 2 months. That was it. I got to do most of the full length classics (minus Don Q and Bayadare. Next lifetime) I got to do tons of Balanchine and also tons of contemporary works. What more could a dancer ask for?  Then I married the man of my dreams whom I have 3 amazing boys with and we have just celebrated our 10 tenth wedding anniversary. Life is so inspiring!
 7. Do you have any advice for young dancers?
1) Find a school to train at that can give you a good classical background. It's very important these days when you enter a company that you can dance in every style. Classically trained dancers can do anything.  There could be 3 ballets on a program : one Balanchine, one classical and one contemporary.  You must be able to dance them all! It's not enough anymore to just be able to do one of them well. You want to be the dancer that the director feels can conquer the entire repertoire.
2) Finish your education. Life on stage is very short indeed and you will still be so young when your ballet career is over. Another career might be there waiting for you if you keep your mind and heart open enough to see it!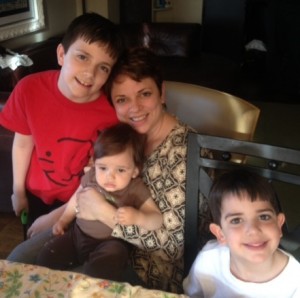 Jenna has been teaching ballet to young dancers throughout her career, beginning in Chicago when she was 17. She has taught master classes in Atlanta, Michigan and for the Nashville Ballet School.
Ms. Lavin has been on the faculty at Ballet Academy East in NYC since 2003 where she teaches and choreographs for the Graded Level.
She is married to Cornel Crabtree and they are the proud parents of three boys: Sky (age 8), Grayson, (age 4) and Cooper (age 1).