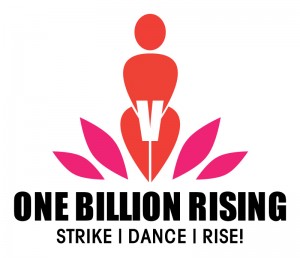 One Billion Rising, a global dance revolution slated for Valentine's Day, February 14th, 2013, invites the world to take it to the streets and dance in support of ending violence against women. Imagine one billion people all over the world, using the power of numbers to spread this message…. And you could be one of them. Call it the world's largest flash mob –and who doesn't love a good flash mob – especially one with a purpose that aims to serve the greater good.
As a sticker on the OBR website states, hard times require furious dancing.
The catalyst of this dance phenomenon is V-Day, a global activist movement to end violence against women and girls started by playwright Eve Ensleur (creator of The Vagina Monologues ) and a group of women in New York City. Each year Eve allows groups around the world to produce a performance of the play, as well as other works created by V-Day, and use the proceeds for local individual projects and programs that work to end violence against women and girls.
V-Day also stages large-scale benefits and produces innovative gatherings, films and campaigns to educate and change social attitudes towards violence against women.
The legendary dancer Debbie Allen has choreographed a simple dance sequence to the One Billion Rising anthem "Break the Chain" written by acclaimed songwriter Tena Clark. "Break the Chain" was recorded by young women and the flash mob features teens from around the New York City area.
Feeling inspired? It's easy to get involved. Search the website to find a local rising in your area or start one yourself. You can also download the toolkit and help promote the event or start your own rising. There's still plenty of time to learn the choreography; it's simple and straightforward.
Here's a video to get you started. Learn the moves directly from Debbie Allen:
All over the world, the word is spreading and people are rehearsing. It's easy to see why when you consider:
• IN THREE WOMEN ON THE PLANET WILL BE RAPED OR BEATEN IN HER LIFETIME.
• ONE BILLION WOMEN VIOLATED IS AN ATROCITY
• ONE BILLION WOMEN DANCING IS A REVOLUTION
One Billion Rising France:
OBR Hong Kong: