The
cover reveal
for WISH has prompted a lot of curiosity about the featured dancer. This comes as no surprise; Colette is a lovely and talented dancer. Read on to find out more about where she came from and where she's headed.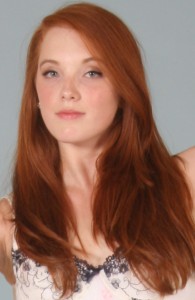 Tell us about your ballet background.
I started ballet when I was 3 at a little studio in Fairfax called DT7. I danced with them for 7 years and eventually joined their pre-professional program. I then decided to audition for San Francisco Ballet School when I was 10 and was accepted to their year round program! I then went through levels 5-8 at San Francisco Ballet School for 7 years. When I graduated high school at the age of 17 I was accepted to Indiana University and now dance with the Jacobs School of Music majoring in Ballet.
What were your initial thoughts about modeling for the cover of WISH?
At first I wasn't positive what kind of book WISH was going to be, but I didn't hesitate when I was asked and felt honored to be on the cover of WISH.
What were your favorite parts about modeling? Biggest challenges?
My favorite part about modeling is getting positive feedback from photographers. When I know the photographer is getting what they need then it makes me feel excited to see the final product.The biggest challenge for me while modeling is being able to relax my face and body.
How do you feel after seeing the finished cover? How is it different from what you imagined it would look like?
I really love it, I think it looks really mystical, beautiful, and almost erie. It is a very intriguing image capturing the audiences' attention. I really like the black and white effect. I thought it would be much more blurred out around the corners and thought I would be farther back on the cover, but I really like the final product.
What are your current projects? 
Currently I am a sophomore at Indiana University and getting a Bachelors of Science with an Outside Field. The bachelor of science part is a major in ballet while my outside field is environmental management. My freshmen year I performed La Bayadere and this year I have performed two pieces for the fall ballet, a classical Balanchine piece, Emeralds and a modern piece, Dark Elegies. We are now working on the Nutcracker, as Indiana starts to go into the low 30 degrees bringing in the holiday spirit, unlike California!
A few fun facts:
Favorite treat: Banana bread/ Oreos
Craziest thing you've ever done: going to a school 2,000 miles away from home.
3 things that make you happy: Indian food/ My parents/ Performing
Favorite past time: hanging with friends/ watching the TV show Scandal
Where do you see yourself in five years?
I see myself in a professional company either on the West or East coast in the corps de ballet.
Anything else to share?
Although ballet is a wonderful part of my life and I am so blessed to have the most supportive parents in the whole world, ballet can be extremely tough mentally and physically. I feel very lucky to be able to go to college and get my education. Although I am dancing around 7 hours everyday, I have many fun activities outside of the ballet program. I love my academics and I feel as though if I get injured or ballet doesn't work out in the end, I will still have a degree from a great university! I believe doing something you love in life and pursuing it is very important but at the same time to be open to other possibilities, as well as living life to the fullest.