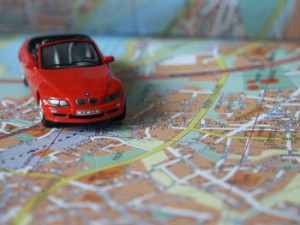 This summer we decided to take a road trip. It wasn't going to be just any road trip; we planned to cover the entire Eastern seaboard, beginning at the Southern-most point in the US (in Key West, FL) and ending up in Maine. In a convertible Mustang. With a ten-year-old.
Did I mention we had 11 days to do it? That's a lot of mileage to cover, with so much to see and do in between. While some may argue that this sounds like a recipe for disaster, we were either optimistically ignorant or just plain determined. As my sister-in-law always says, "Go big or go home." Not a bad motto.
What we found was a whole new list of places to love and that we are, in fact, very good travelers. And I also discovered that many of these new favorite cities have world-class ballet companies as well. If I were starting out as a dancer today, I might seriously consider them.
Philadelphia, PA. Pennsylvania Ballet celebrates its 50th season this year with an impressive lineup of Balanchine favorites Jewels and Serenade, works by William Forsyth and Christopher D'Amboise, and a world premiere by Trey McIntyre. Although I am embarrassed to admit that I had previously spent a grand total of three hours in Philadelphia (when I auditioned for the company in 1984), Philadelphia is a new favorite city. Where else can you see a living example of freemason building (City Hall, which took 27 years to build), the largest Rodin collection outside of Europe, the largest collection of Impressionist art outside of Europe and the "Rocky" steps (the scene of Sly Stallone's famous run up the gigantic stone staircase outside the museum.)
Charleston, SC. Charleston Ballet is a small company with big ideas. For its 26th season, the repertoire encompasses both classical and contemporary works such as Dracula, (choreographed by Jill Eathorne Bahr), and new choreography set to Gershwin and Latin Jazz music. Principal dancer Alexey Kulpin, originally from St. Petersburg, Russia, dances the lead in Don Qixote and Peter Pan. I have always loved Charleston since I first discovered it years ago while on tour with Miami City Ballet. The historical area of town is postcard perfect with beautiful Southern plantation homes in bubblegum colors and still features working gaslights after dark. It's a town that easy to get to know and difficult to leave…  plus some say the climate is similar to that of Hawaii… dakine.
Boston, MA. Coincidentally, Boston Ballet is also celebrating its 50th season… with Jewels on the roster. (Did they powwow with Pennsylvania on that?) This season also promises La Bayadère, Cinderella, five company premieres, a tour to London, Washington DC and New York, and Night of Stars on Boston Common (September 21st, 7:30pm), a free event, Boston Ballet's gift to the city. Boston is rich with history, culture and more colleges and universities per capita than anywhere else on the planet. (postscript: Boston is also the home of the best canoli ever: Mike's Pastry, located near Fenway Park).
Chapel Hill, NC. Carolina Ballet, based in the next town over (Raleigh, NC) and launched in 1997,has staged 80 world premiere ballets, and toured internationally in China and Hungary under the artistic direction of Robert Weiss (former artistic director of Pennsylvania Ballet and principal dancer at New York City Ballet .) It appears there is a conspiracy afoot: this company also plans to perform Jewels… plus classics Romeo &Juliet and Sleeping Beauty and a world premiere set to Vivaldi's Four Seasons. One of the three points of the high-tech R&D hub known as the Research Triangle (along with Raleigh and Durham), Chapel Hill is known to be a large population with a small-town feel and liberal political outlook and nearby UNC and Duke University keep the culture lively. It was recently hailed as "America's Foodiest Small Town" by Bon Appétit Magazine.
Miami Beach, FL. Miami City Ballet. Oh wait. Already did that. I'm interested to see how the company blossoms under the artistic guidance of Lourdes Lopez. This season the company will offer a mix of Balanchine (Serenade, Concerto Barocco), classic (Don Quixote), and  theatric flavor (West Side Story). Miami has grown and changed dramatically since I lived there in the late 80s but I'm happy to report the beach is still clean and the ocean is crystal clear.