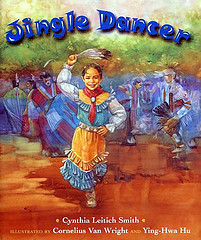 Author: Smith, Cynthia Leitich
Title: Jingle Dancer
Publisher: Morrow Junior Books, 2000
ISBN: 0688162428
Ages: 4-8
Jenna lives for jingle dancing. Watching her grandma dance to the brum brum brum of the powwow drum, Jenna asks if she can dance at the next pow wow. "Next powwow, you could dance Girls," Grandma answers. "But we don't have enough time to mail-order tins for rolling jingles."
But Jenna wants her dress to sing. She loves the tradition that has been passed down through many generations of family. She puts on her thinking cap to solve her problem. Her days are soon filled with visits to other family members and friends, like Aunt Sis, Mrs. Scott and Cousin Elizabeth. Jenna hears stories from each and asks them to help her collect enough jingles for her dress. With a little extra help from Grandma, Jenna's dress is ready to sing at last.
When the big day arrives, Jenna remembers each person who helped her and dedicates her dance to each of them, since they are not able to dance themselves.
Cynthia Leitich Smith's lyrical prose relates the story of how a contemporary Native American Girl turns to family and friends for help. Watercolor illustrations by Cornelius Van Wright and Ying-Hwa Hu bring the story to life.
Share: Tweet