When I think about what it was like to visit Quito, memories come in flashes: smooth, brown faces of the people contrasted against the vibrant colors of textiles, brighter and bolder than any I'd seen elsewhere. Elfin children staring with wise, dark eyes.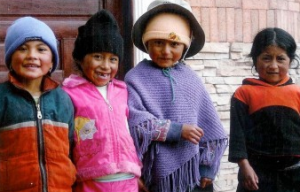 And gold…
Although Quito did not have the bloody, golden past of neighboring Peru you wouldn't know it walking into the Church of the Society of Jesus (La Compañía de Jesús). Every square inch of the altar's interior, from floor to ceiling, is richly coated with gold leaf.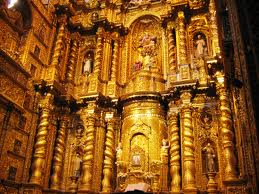 The church is one of many colonial churches, chapels, convents and picturesque plazas within the historic center of Quito, one of the first World Cultural Heritage Sites declared by UNESCO in 1978. Quito derives its name from the Quitus, a tribe from the Quechua civilization who inhabited the region eons before Spanish conquest. It had been a capital of the Seyris and the Incas before it became a Spanish city in 1541.
A stroll through the area leads down narrow streets dotted with colorful homes. Another popular stop is the Presidential Palace. There we took photos with the uniformed guards who stand at attention outside the front entrance, much like their English counterparts.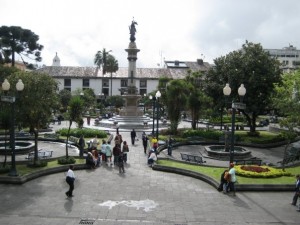 Back out on the streets local artisans set up stalls full of blankets, sweaters and other woven goods in a kaleidoscope of colors. We learned that many of them live high in the surrounding hills; they trek up and down these hills each day with their wares strapped to their backs.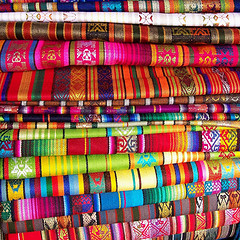 Overlooking it all with outstretched arms is one of the most iconic structures of Quito – a giant (135 ft.) aluminum Madonna located atop El Panecillo, a hill in the middle west of the city. She was built in 1976 by the Spanish artist Agustín de la Herrán Matorras. Although she is visible from most of the city of Quito her size is best appreciated up close.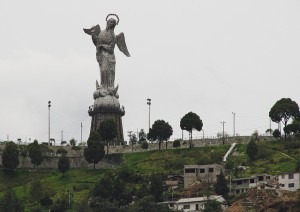 Quito was well worth the journey. I feel fortunate to have had the opportunity to see a country that is so different from ours. I hope to return one day to see it as it is now. Minus the oxygen tanks.