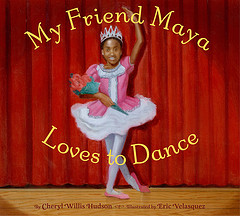 title: My Friend Maya Loves To Dance
author: Cheryl Willis Hudson
illustrator: Eric Velasquez
ages: 4-8
publisher: Abrams Books For Young Readers, 2008
ISBN: 9780810983281
A young narrator describes her friend Maya's love of dance, which is visibly present everywhere Maya goes. Whether she's at the local mall, performing during worship at her church or pretending she's dancing for a queen, Maya's passion for dancing is contagious- for her friend the narrator, and all the other people she meets. Indeed, Maya, a young African American girl, is the picture of grace, dancing to every kind of music she hears; jazz, blues, rap, Bach or blues. Her lithe, willowy form is portrayed across every page in different settings and costumes. She is just as comfortable in a tutu or jeans… she's even shown wearing Kente cloth.
This lyrical story is a pleasurable read. Ms. Hudson's flowing verse echoes Maya's graceful movements:

My friend Maya loves to dance
Wherever there is music,
Maya takes a stance,
She points her toes,
Then away she goes.
Dancing is fun.
Maya Knows!
In the closing lines, it is revealed that the narrator is confined to a wheelchair, yet she is still inspired to dance by her friend:
Maya dances strong, and free
With joy all can see.
Dancing is magic for her and for me.

Colorful photo-realistic illustrations by Eric Velasquez, a recipient of the Coretta Scott King/John Steptoe Award for new talent, bring the story to life. This book is a great pick for anyone who loves to dance or dreams of being a dancer one day. Perfect for story time, bedtime and anytime in between, readers 4-8 and their caregivers will fall in love with Maya and dance by the time they reach the final page.