When life calls for a Plan B
By Terez Mertes Rose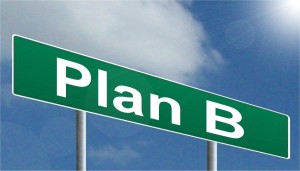 There is a certain line of thinking in an ultra-competitive, high-stakes career like ballet or gymnastics, that mandates one to focus on the shining goal alone, and not the what-ifs. "Don't ever make a Plan B for your life," more than one elite coach or teacher has told their pre-professional student. "If you do, it's as if you're saying, 'it's okay if this doesn't work out.' Give this your all, and then give more. And more." It's an intense philosophy that nonetheless breeds winners, those who will rise to the top of the top and stay there. But the laws of physics are clear: what goes up must come down.
I recently published a novel, Outside the Limelight, which chronicles the journey two professional dance sisters take when life and career don't turn out quite as planned. For the elder sister, lack of a promotion has meant nine years in the corps, that have increasingly debilitated her body. For the younger, a swift rise through the ranks is halted by a devastating medical diagnosis: a brain tumor. Sidelined in the aftermath of complications from the extraction surgery, her life is no longer at risk, but her career is. Which, to her, feels like one in the same.
Both sisters now grapple with the question that few young elite athletes want to face: what comes next, when the career you've trained your entire life for, devoted all your attention and energy to, tries to nudge you out?
I had the opportunity to explore real-life scenarios in conversations with former New York City Ballet dancer sisters Romy and Zippora Karz. Like my younger character Dena, Zippora, a soloist, had to struggle with a challenging medical diagnosis—Type 1 diabetes—that put her health and career at risk every day. "From the moment I first learned how to inject insulin, I questioned how realistic it was for me to continue with the NYCB," she said. "It was just my third year with the company, but I had already been dancing leading roles. Through the years, as the reality of life with insulin dependent diabetes took its toll on me, and consequently affected my dancing, it became a daily question. Each day I would go to bed thinking that was my last, and each morning I would wake up thinking, just one more show." (Her journey is eloquently chronicled in a memoir, The Sugarless Plum, published in 2009.)
Love for her art prevailed and she danced for sixteen years with the NYCB, thirteen after her diagnosis. Finally it came time to transition to a Plan B, and with it, a pleasant surprise.
"I wasn't really looking to be a teacher. I never wanted to impose or perpetuate the perfectionism I struggled with so much. But as I taught and staged Balanchine ballets, I was brought back to my early years, before my illness, before the stress and pressures of being a professional. I re-experienced the magic and purity of dance, the innocence. I fell in love all over again, but this time it was about giving back. It was a huge relief to be able to focus on others and not always be preoccupied with my own body and how to manage my disease."
For Romy Karz, a plan B followed nine years in the corps de ballet, with injuries sustained throughout her career. (The NYCB is renowned for its long seasons, high-powered dancing and extensive number of performances, especially rough on its corps dancers.) She was offered a soloist position in a new company, so she left New York for her native California and the newly revived Los Angeles Ballet, a move that backfired when the company failed to take off. Which turned out to be a blessing in disguise. While pursuing freelance opportunities, a pregnancy caught Romy by surprise, as did the sudden realization that motherhood was something with the potential to be even bigger than dance. She found the experience of childbirth to be so profound, so empowering, that a Plan B unfolded beneath her effortlessly. This was her second calling, then: an advocate for a positive birth experience, as a childbirth educator and later as a doula, and a lactation specialist. It is what she happily devotes her time to now, along with teaching ballet and educating young dancers on how to pursue the craft from a healthier, more holistic point of view than she and her own era had.
For more than one professional ballet dancer (including Rebecca, my fictional older sister dancer), Plan B involves taking college classes. Fortunately, that's become easier these days, thanks to the help of institutions like St. Mary's College in San Francisco, which offers a bachelor of arts degree program that caters to dance and other performing arts professionals. Fittingly called LEAP (Liberal Education for Arts Professionals), it gives its students the opportunity to work classes into busy performing weeks and seasons. LEAP extension programs can be found in New York and Los Angeles now, as well. New York City's Fordham University, too, offers close proximity to Lincoln Center and reduced tuition for dancers, and American Ballet Theater affiliates with Long Island University, just as Boston Ballet does with Northeastern University.
Social media, too, has become an avenue allowing dancers, sidelined or otherwise, to engage with the "outside world" in a way that profits everyone. Former New York City Ballet soloist, Kathryn Morgan, has built a veritable social media empire with her website and YouTube channels, with views in the hundreds of thousands, as well as her posts on Instagram, Twitter and Facebook that share the ballet world with countless eager, interested ballet aspirants. The Kathryn Morgan Show is her podcast on the Premier Dancers Network, and she offers advice as "Dear Katie," an advice column in Dance Spirit magazine. Fans can't get enough of her.
Was any of this part of her original plan? Decidedly not. While dancing with the New York City Ballet, Kathryn suffered a debilitating illness, an autoimmune thyroid disorder, during a time that should have otherwise been reserved for flexing her considerable talent and growing ever more accomplished. Instead, after two difficult years of fighting against her illness, she headed back to her hometown to heal, a long, long process, as it turned out. Initially, she told me, it felt like the end of the world. But ballet dancers are tough, and their talent and persistence don't stop easily at a "no." Plan Bs can incorporate whatever you need, and for Kathryn, this meant staying right there in the midst of the dance world.
Linda Hamilton, in her book Advice for Dancers; Emotional Counsel and Practical Strategies, offers tips on preparation for that inevitable transition, to avoid that rug-pulled-from-beneath-you feeling. "Start early," she counsels. "It's better to make a gradual transition than to switch to something new out of the blue." She encourages dancers to develop their skills through hobbies, or internships. "The sooner you begin, the more prepared you'll be for your next career," she says.
Prudent advice. Because there will, some day, be a need for a Plan B. The good news, as the above dancers have revealed, is that your Plan B might pleasantly surprise you.
About the Author
Terez Mertes Rose is a writer and former ballet dancer whose work has appeared in the Crab Orchard Review, Women Who Eat (Seal Press), A Woman's Europe (Travelers' Tales), the Philadelphia Inquirer and the San Jose Mercury News. She is the author of Off Balance and Outside the Limelight, Books 1 and 2 of the Ballet Theatre Chronicles (Classical Girl Press) respectively. She reviews dance performances for Bachtrack.com and blogs about ballet and classical music at The Classical Girl (www.theclassicalgirl.com). She makes her home in the Santa Cruz Mountains with her husband and son.