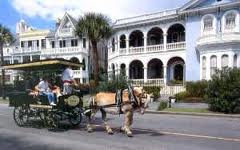 Any tour to a new city is often full of unexpected surprises, but the best is finding a city to fall in love with. Such was the case when we arrived in Charleston, South Carolina. I had no expectations or preconceived notions about what I would find, which left my mind wide open for love at first sight.
The company had arranged for an outing in the midst of our hectic performing schedule. It was a few short weeks before Christmas and we quickly adopted the holiday spirit. It was hard not to – the shops lining the quaint city streets were filled with lights and festivity. Peoples' attitudes seemed to match everywhere we went… or maybe it was just some good ol' Southern hospitality. Those warm, buttery accents sound festive no matter what day it is.
A group of us grabbed the opportunity of a horse and carriage ride. These rides rides often make you feel as though you've time-traveled to a different era and this was no exception. Our running commentary was full of wonder as we gawked at the picturesque antebellum mansions that lined the city streets. It began to grow dark and the city felt even more alive and magical as the holiday lights on these private homes came on one by one.
We rounded a corner and then we saw it:
One of the grandest mansions of all had been transformed into a veritable fairy kingdom, or at least it appeared so in the dark. Every square inch of this home was covered in white twinkle lights, from its palatial rooftop to its perfectly groomed shrubbery and grand, sweeping staircase flanked by majestic stone columns.
It was breathtaking. Literally. I stopped breathing as I drank it all in. I have never seen a better holiday display before or since. The memory of it (although decades old at this point) still burns brightly.
Today it keeps me coming back to Charleston  because it is a place where magic happens.