Whenever I meet someone for the first time, one of their first questions is, "What was it like to be a professional ballet dancer?" Ballet is in the public eye like never before, yet movies like Black Swan and shows like Breaking Pointe tend to focus on the gritty side of dance, and are at times extreme. It's difficult to explain what something is like to someone who's never personally experienced it, but I can sum it up with one line:
Ballet is a hard life.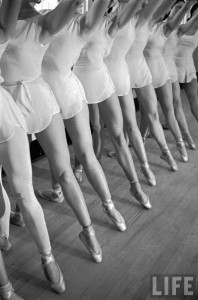 No other job on the planet requires so much time and energy with so little pay…and it's one of the most competitive fields in existence. Out of the 2000 dancers who audition each year for the School of American Ballet's Summer Intensive, only a handful are chosen to become permanent students. Out of the 200 permanent students only 20 are hired for professional ballet companies around the world. These figures give a whole new meaning to the term "the one percent."
Although ballet is a difficult life it's not without its perks. Fellow dancers feel like family (maybe slightly dysfunctional, but show me one that isn't), there's often the opportunity to travel (and someone else pays), and the experience of working towards perfecting your art is satisfying on an entirely different level than most jobs.
Lastly, choosing a life in dance pays off for the rest of your life in unexpected ways, from living fully in your body and treating it respectfully to understanding and applying the principles of hard work and dedication to everything you do.
So yes, ballet life is hard, but so is everything that's worth doing.
RELATED POSTS: