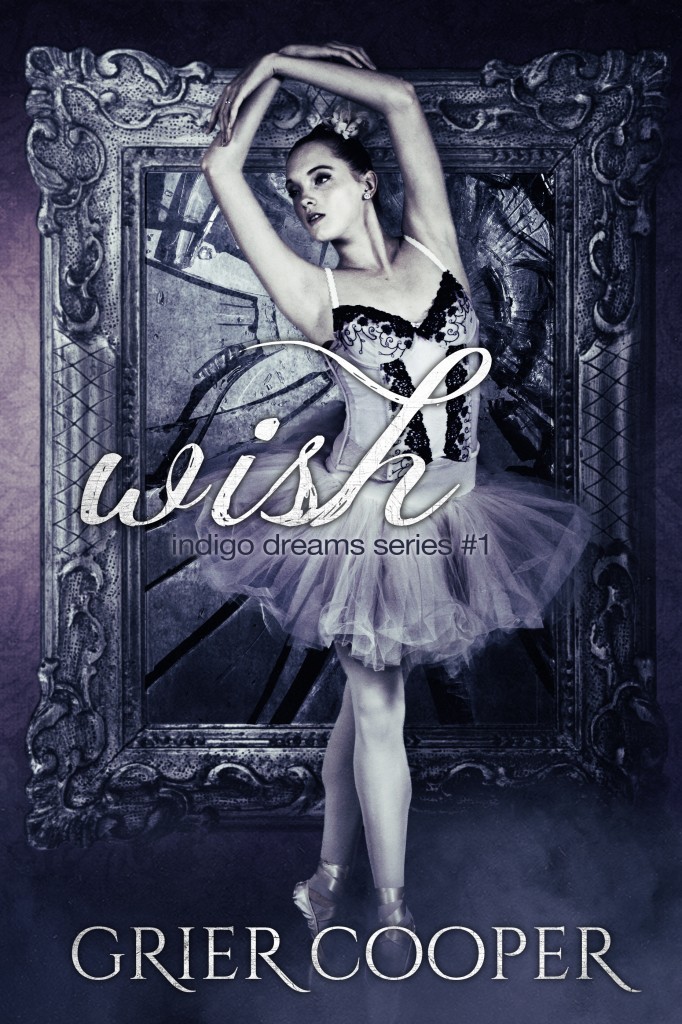 Title: WISH
Series: Indigo Dreams #1
Author: Grier Cooper
Release Date: December 2, 2014
About the cover: This cover is a culmination of a whole lot of work, a big dream, more work, and several talented people. I am thrilled with the results and hope you like it as much as I do.
I had an idea of the look and feel I was going for when I began. I knew I wanted a ballet dancer on the cover –not just any dancer – but a REAL dancer. A friend put in me in touch with Colette Kerny (the  cover model) and we shot the original photo in a dance studio this past summer. I passed this off to LJ Anderson of Mayhem Cover Creations and she worked her magic.
Nothing quite describes the feeling of seeing the cover of your book for the first time. It's kind of like having an inner hoedown: swirling bits of relief, revelry, exhilaration, and jubilee. If I had any fireworks laying around I'd light 'em. For now you'll just have to use your imagination.
Stay tuned for the story of my cover model. Colette Kerny, and other tidbits and yummy nibbles from WISH in the next few weeks leading up to the official release!
Synopsis: 
For Indigo Stevens, ballet classes at Miss Roberta's ballet studio offer the stability and structure that are missing from her crazy home life. At almost 16, she hopes this is the year she will be accepted into the New York School of Ballet. First she must prove she's ready, and that means ignoring Jesse Sanders – the cute boy with dimples who is definitely at the top of Miss Roberta's List of Forbidden Things for Dancers.
But Jesse is the least of Indigo's concerns. When she discovers her mom is an alcoholic, it simultaneously explains everything and heaps more worry on Indigo's shoulders. As her mom's behavior becomes increasingly erratic, Indigo fights to maintain balance, protect her younger brothers from abuse, and keep her mother from going over the edge. When the violence at home escalates, Indigo realizes she can no longer dance around the issue. At the risk of losing everything, she must take matters into her own hands before it's too late.
WISH is available for pre-order…grab your copy now!
Amazon: http://ow.ly/D7yUN
Barnes and Noble: http://ow.ly/D7yx1
Smashwords: http://ow.ly/D7AIc
Google Books: http://ow.ly/D7zuh
Goodreads: http://ow.ly/D7Abn
Kobo: http://ow.ly/D7Ax9