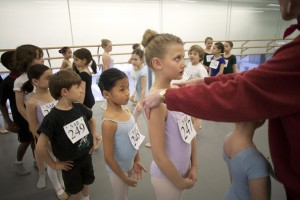 It's that time of year again: audition season. So many dancers have a love/hate relationship with auditions, which isn't surprising. Auditions aren't a comfortable situation–it's easy to feel like a herd animal when you have a number pinned to the front of your leotard. However, auditions are opportunities… and you never know which one will lead to something good. Sometimes you have to go with your gut, take a leap of faith and go for it.
I took my biggest leap of faith when I auditioned for Miami City Ballet.
I was living in San Francisco at the time but the audition was to be held in New York at the School of American Ballet, where I'd trained for many years. I'd already been on many auditions where nothing happened. It was discouraging. But I really wanted to dance with this company. My body had been trained to speak Balanchine. Several of my friends were already in the company and life in Miami sounded exciting.
I bought a plane ticket that got me to New York the day before the audition.
It felt weird to walk the hallways of SAB again as an outsider. I was jet-lagged and hadn't slept well but I was determined. The halls quickly filled up with hundreds of bodies. The final headcount was well over three hundred people. There isn't a ballet studio on the planet that can hold that many people at once (correct me if I'm wrong) so they divided us into two groups.

I was in the second group, which meant an even longer wait in the hall, more nerves and the paradox of how to keep your muscles warm while sitting around on a cold floor.
Eventually our group was called and it was show time. We were packed so closely together that we were forced to turn on the diagonal any time we had to lift our legs while Edward Villella (Artistic Director) and Elise Bourne (ballet mistress) patrolled the room. As with any audition I gave it my all–maintaining the delicate balance between dancing full out and pacing myself. Our numbers dwindled. By the time we got to grand battement there was enough room to kick freely.
We moved out onto the floor and more people were cut. We put on pointe shoes and more people were cut. I was in "the zone" while I danced; the place where there is music, movement and nothing else. The rest of the world hovers hazily on the periphery like a distant and unimportant dream.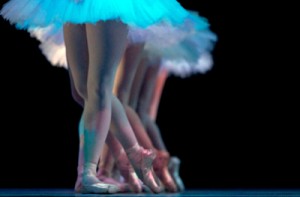 Then they called in the boys. We were paired off with partners. As a stranger spun me around and lifted me high above his head I noticed my past SAB teacher, Antonina Tumkovsky, standing at the doorway, watching. Tension much?
After who knows how many hours ten of us remained. We stood there, waiting for a final word. No one breathed. But they explained that there were still three more upcoming auditions in three additional cities. There would be no final decision for the foreseeable future.
I did what anyone else would do: I went back to San Francisco.
And waited. Danced. Waited some more.
One day the phone rang. By some miracle I was home and answered it (keep in mind this was long before cell phones existed). The voice on the other end of the phone said, "This is Edward Villella. I am calling to offer you a contract with Miami City Ballet."
I did what anyone else would do; I accepted. Then I called my mother. She cried.
Leaps of faith and fate are intricately entwined… with only a few letters differentiating them from one another. Trust your gut, take that leap and see where you land.
Dancers audition for Royal Winnipeg Ballet School in the documentary TutuMUCH: