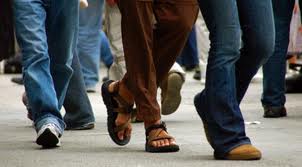 When you are touring with a ballet company there isn't a lot of time to go exploring, so you learn to make every little bit count. Even a full performing schedule has a few openings to squeeze in a walk before or after breakfast or grab a snack or coffee in between shows or rehearsals. After all, if you've already flown halfway around the world (and hey, someone else even paid for it!) you owe it to yourself to go see something.
A group of us decided to use the time between breakfast and morning class to explore on foot. A few minutes into the walk we came across a farmers' market. The sights and smells were so different from what we found at home: fried bread, twisted and dusted with powdered sugar, hunks of marbled halvah, a decadent treat made from sesame seeds that managed to be oily and flaky.
And oh, yes. Let's not forget the uniformed men with guns.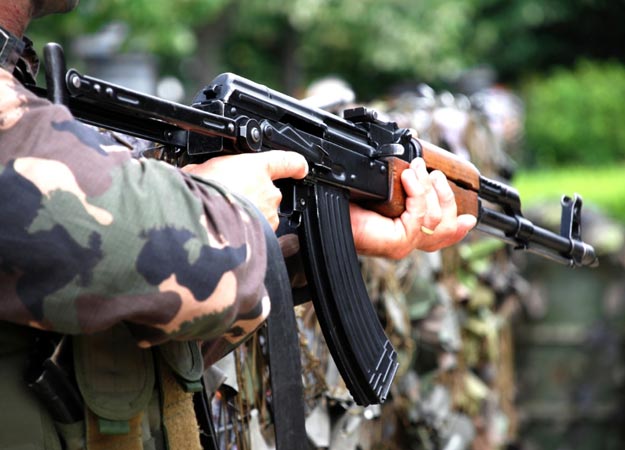 Correction. Not just any guns. AK-47s. Not a sight I'd ever seen a farmers' market before.
"Those men have guns," said one of the girls. "Are we safe? Should we even be here?"
We all looked over nervously, assessing. The men were obviously military of some sort. They wore mirrored sunglasses so it was impossible to tell if they were watching us. They held their rifles stiffly, fingers resting on the triggers. There was nothing casual about their demeanor.
"We'll be fine," said our token male dancer. "They aren't interested in us. They're just standing guard."
The other girls tittered nervously. "It creeps me out," said one.
There was something unnerving about a bunch of guys with assault rifles standing within arms' reach (sorry about the pun). We took it as our cue to exit stage left.
Walking back along cobblestone streets that were potentially thousands of years heightened the sober mood. Moments later we were walking along Via Dolorosa, The Way of Sorrows. Here we were, in Jerusalem, walking same path where Jesus had carried the cross. Our feet, retracing this ancient, Biblical event. Maybe occasionally breathing in a few stray atoms that were remnants from that time.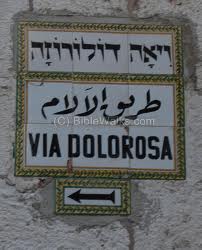 For a moment I wondered if God might be watching.
Just then a flock of birds soared past, the fwap-fwapping of their wings dispelling the thought. I tracked their progress, watching the group of them wind around a tower nearby, spiraling up into the blue before breaking formation to come to rest on a distant rooftop.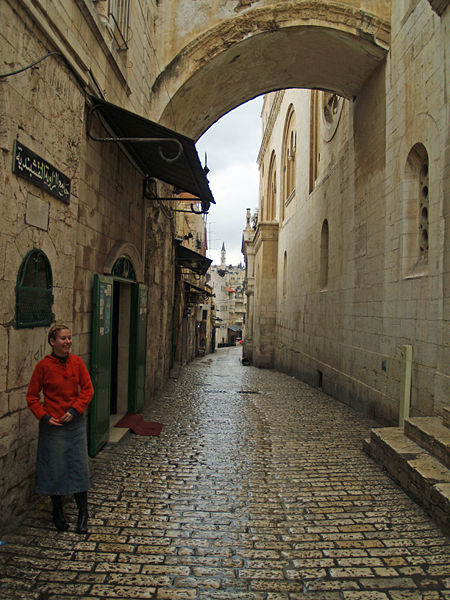 We continued back to our hotel. I decided not to mention the dead cat staring mutely from a pile of garbage. Instead I wondered alone about how it ended up that way, which did nothing to ease my sense of security.
The Dome of the Rock came into view. It was a breathtaking sight, the colors and textures of azure blue and blazing gold so rich we ran the last bit of the way to it, laughing. Once there, we took photographs of one another, pretending we were shooting mock Gap ads.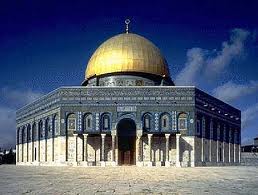 And then we saw them. Although maybe they saw us first. A bunch of young soldiers in uniform, armed with rifles came running our way. They appeared to be our age or younger, many of them barely more than children. The sight of them with rifles was incongruous and made me feel queasy.
One of them was disarmingly handsome (sorry about the arms puns, my subconscious just keeps tossing them out, making me laugh as I type them). Truly, he was. He approached us, lowering his rifle as he introduced himself.
We were speechless. The combination of that many guns and the hot guy was too much to handle at once. Plus we were terrified. Should we talk to them? Who knew what they would do, what they wanted. Yes, they were being friendly, but they had guns. We were a bunch of skinny dancers, hardly more than teens ourselves. This was not our country and there were no rules.
But moments later we were taking photos with them. The international language of chemistry traverses all borders. So, hell. Why not seize the moment and take a picture with the hot guy? You only live once.